South Devon Youth Jazz is an exciting new project that aims to provide the young musicians of South Devon with an opportunity to play jazz together in a fun and encouraging environment.
The people behind SDYJ…
Sam Massey
Trumpet | Flugelhorn | Educator | Composer | Musician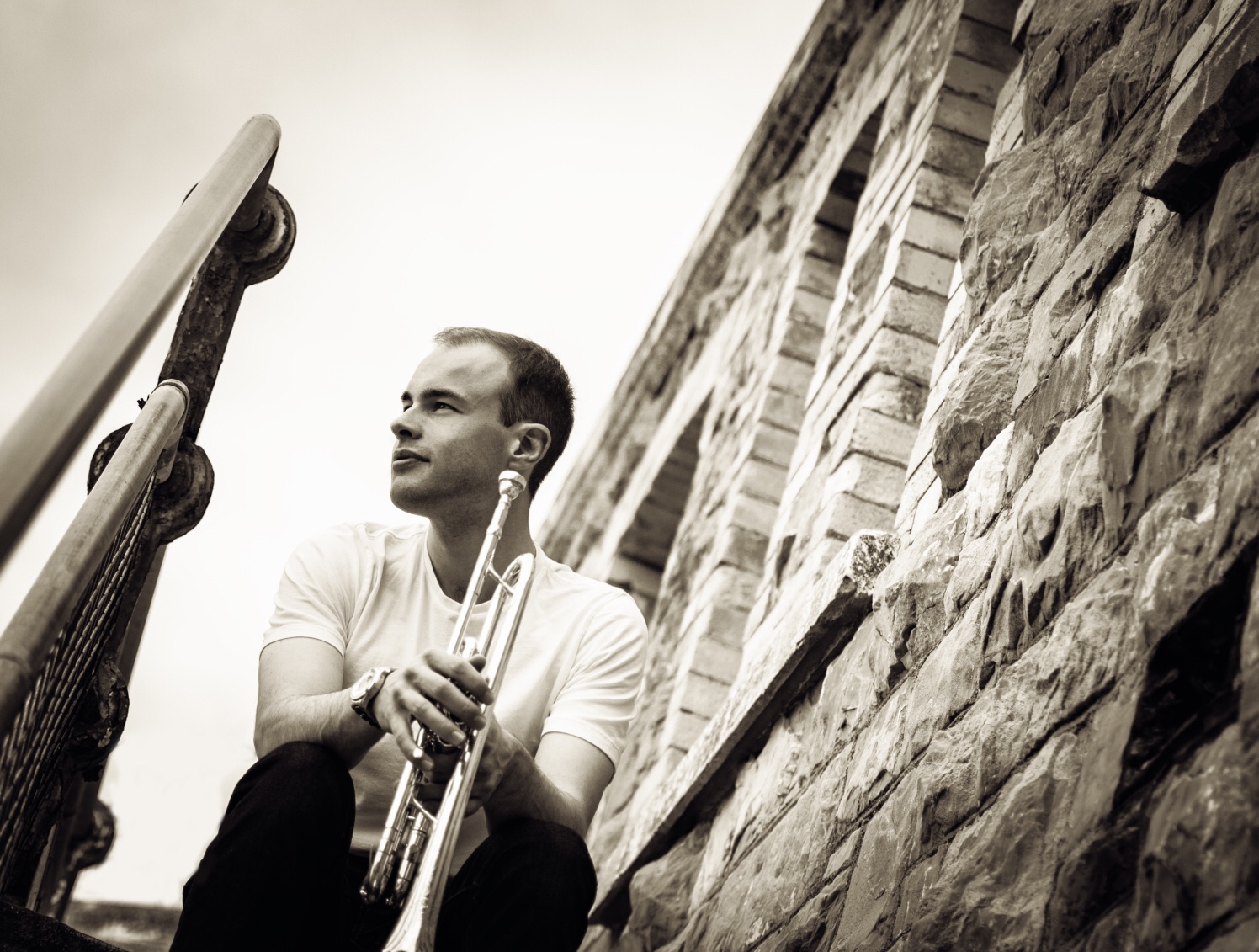 Sam is a well-regarded freelance musician with experience of teaching, performing, composing and arranging based in the South West of England, UK.
"Fine…trumpeter Sam Massey fuse[s] lyricism, abstraction and Miles Davis-like pungency on the gripping Juxtapositions."
John Fordham,
The Guardian, "A Bigger Show Live" Review, February 2016
He was an early adopter of the Totnes Saturday Music School (now called SaMMS) and attended its first Brass Group session in June 2001.
Performing widely at KEVICC and SaMMS, he left with Grade 8 Trumpet and an A at Music A-Level to spend time studying Music at the University of Bristol and furthering his trumpet studies with Dean Wright, Principal Trumpet of the Welsh National Opera Orchestra and Professor of Trumpet at the Royal Welsh College of Music and Drama.
Sam has also been fortunate enough to attend workshops and masterclasses with the internationally-acclaimed trumpet players Alison Balsom, Crispian Steele-Perkins, Eric Vloeimans and Steve Waterman as well as the Brass and Percussion Departments at the highly-celebrated Wells Cathedral School.
Sam is emerging as a talented improvising jazz trumpet and flugelhorn player in the South West and around the country.
Sam is very fortunate to have been a regular member and soloist with the Mike Westbrook Big Band since 2010, working with musicians such as Mike Westbrook OBE, Kate Westbrook, Jon Scott, Mark Bassey, Alan Wakeman, Pete Whyman, Karen Street, Roz Harding, Coach York, Billy Bottle, and Lou Gare amongst many others.
Recently he has recorded A Bigger Show Live with Mike Westbrook's Uncommon Orchestra – a critically-acclaimed double album produced by Jon Hiseman, released on ASC records on 5th February 2016. The album has received international airplay on BBC Radio 3, BBC Radio 6 Music, Jazz FM and RAI Radio 3 (Italy) and was premiered in London's Kings Place on May 20th 2016.
He is committed to continuing professional development and is now furthering his trumpet and jazz studies with highly-regarded jazz and improvising trumpet player Nick Malcolm (teacher of Jazz Trumpet at Wells Cathedral School).
Sam is thoroughly committed to music education and has over seven years of experience of individual and group brass, music theory, aural and composition tuition, both privately and in primary and secondary schools.
He is in his ninth year as Brass Tutor at SaMMS, and is currently tutor of its Concert Band and Jazz Band . For full details, please visit https://sammasseymusic.com/
Jade Gall
Saxophonist | Flautist | Teacher | Musician
Jade Gall is a highly celebrated UK-based saxophonist and flautist, hailed as having a "big, strong tenor sound with a beautiful sense of melody and swing…a musician to look out for in the future" by top UK trumpeter Steve Waterman.
Experienced in jazz, classical and pop fields, she has performed alongside top-class musicians from around the world, including: Allison Adams Tucker, Claire Martin, Clare Teal, Jason Rebello and Duncan Lamont; and has featured on BBC Radio broadcasts.
A regular feature of horn sections across the UK & Europe, Jade has performed to sell-out crowds at The Welsh Millennium Centre, Glastonbury Festival and Boomtown Fair. She features as regular saxophonist of the smash-hit touring show 'Signed, Sealed, Delivered' and has also played for 'The Magic of Motown' and 'Soul Legends' shows as far afield as Barcelona and Belgium.
As a classical saxophonist, Jade is a Fellow of Trinity College London (FTCL) in saxophone performance. She graduated with an MA in Music Performance from the Royal Welsh College of Music and Drama in 2013 and has studied with top classical saxophonists Hannah Marcinowicz, Nigel Wood and Gerard McChrystal. A regular feature of classical music festivals around the country, she premiered Marianna Filippi's 'Meandering Impressions: A Love Poem' (written for her) for tenor saxophone and piano during part of the Welsh Proms on the Lefel 1 stage.
As a jazz artist, Jade released her debut quintet album 'Out With The Blues' to critical acclaim in 2016, and has since performed as both bandleader and sideman at top jazz venues across the country.
Jade has a passion for sharing her musical skills and education projects are a key part of her musical life. She is an experienced woodwind tutor, teaching saxophone, flute and clarinet at a number of educational institutions and worked with South West Music School whilst studying for a BA (Hons) in Performance Practice at Dartington College of Arts.